Sexual Assault Crisis Line
1800 806 292*
Free call* Victoria, Australia
The Sexual Assault Crisis Line Victoria (SACL) is a state-wide, after-hours, confidential, telephone crisis counselling service for victim/survivors of both past and recent sexual assault.

SACL operates between 5pm weeknights through to 9am the next day and throughout weekends and public holidays.
Arabic leaflet
Chinese leaflet
Filipino leaflet
Japanese leaflet
Khmer leaflet
Russian leaflet
Spanish leaflet
Turkish leaflet
Urdu leaflet
Vietnamese leaflet
What does SACL provide?
Afterhours telephone crisis counselling support, information, advocacy and referral to anyone living in Victoria who has experienced any form of sexual assault at any point in their lives.
Co-ordination of a crisis care response to recent victim/survivors of sexual assault within the last 2 weeks throughout Victoria. This involves an immediate face to face response with a Counsellor/Advocate from CASA.
Support and information to non-offending family and friends.
Information on legal and medical rights/options
Advocacy with service providers and secondary consultation to professionals
Contact
Crisis line 1800 806 292 (Freecall* Victoria, Australia)
Admin: (03) 8345 3021

Fax: (03) 8345 2081
Email: ahcasa@thewomens.org.au
Police/emergency contact line: (03) 8345 3494
Find your nearest Centre Against Sexual Assault
* Charges are applicable from mobile phones - Ask the Counsellor to return your call.
Crisis Line is NRS Friendly
If you are deaf or have a hearing or speech impairment can call through the National Relay Service (NRS)

TTY users can phone 1800 555 677 then ask for 1800 806 292
Speak & Listen (speech-to-speech) users can phone 1800 555 727 then ask for 1800 806 292
Internet relay users can connect to NRS on www.relayservice.com.au then ask for 1800 806 292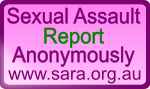 Report past or recent sexual assault or harrassment to Sexual Assault Report Anonymously.  Anonymous data from SARA is passed on to police and contributes to police intelligence about sexual assault and helps keep our community safer.

SACL acknowledges and pays respect to the Kulin nations, the traditional owners of the land on which SACL sits today. We pay our respects to them, their culture and their Elders, past, present and future.